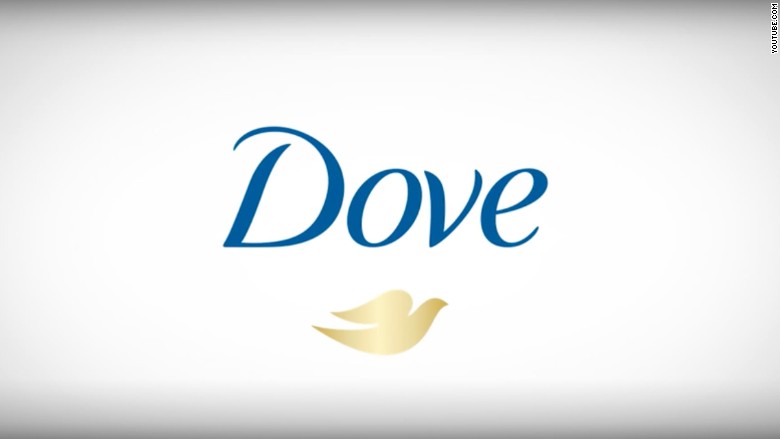 Dove apologized this weekend for a social media post that the company says "missed the mark" representing black women.
The offending ad was a 3-second GIF hawking Dove body wash that was posted Friday to the brand's Facebook page. It was taken down Saturday.
CNNMoney reviewed a copy of the GIF. It shows a looping image of a black woman removing a dark brown t-shirt to reveal a white woman. She then removes her beige t-shirt to show a third woman.
"This did not represent the diversity of real beauty which is something Dove is passionate about and is core to our beliefs, and it should not have happened," the company said in a statement Sunday. "We apologize deeply and sincerely for the offense that it has caused and do not condone any activity or imagery that insults any audience."
On Friday, Naomi Blake, a 29-year-old beauty entrepreneur who runs a popular Instagram account, said she reached out to the company through Facebook to voice her concerns about the ad.
She said received a "copy and paste" response. Blake also took screenshots of the ad that soon went viral on Facebook and Twitter.
— Black Girl Culture (@blkgirlculture) October 8, 2017
"How can you see a body wash ad like this and not realize? It rubbed me and many people the wrong way," Blake told CNNMoney. "What are you telling the little black girls who watch this?"
Dove took down the ad Sunday and posted an apology on Twitter.
An image we recently posted on Facebook missed the mark in representing women of color thoughtfully. We deeply regret the offense it caused.

— Dove (@Dove) October 7, 2017
For its part, Dove, which is owned by Unilever (UL), has for more than a decade tried to take a socially conscious stance on beauty. Its ads have frequently used models of various body weights, ages and races.
The campaigns "My Beauty My Say," "Real Beauty," and "#BeautyBias" have been applauded for their depictions of diversity and promotion of self confidence.
But this isn't the first time a Dove campaign has raised eyebrows.
In 2011, an ad for one line of Dove body washes was accused of racism for lining up three women from lightest to darkest skin tone. They appeared below the words "before" and "after," which were meant to indicate skin dryness.
Earlier this year, Dove's U.K. branch touted a short video depicting variously shaped Dove body wash bottles with the tagline, "Beauty comes in all shapes and sizes." Critics said it suggested women are defined by their body types.
CNNMoney (New York) First published October 8, 2017: 6:42 PM ET
Source
http://money.cnn.com/2017/10/08/news/companies/dove-apology-racist-ad/index.html